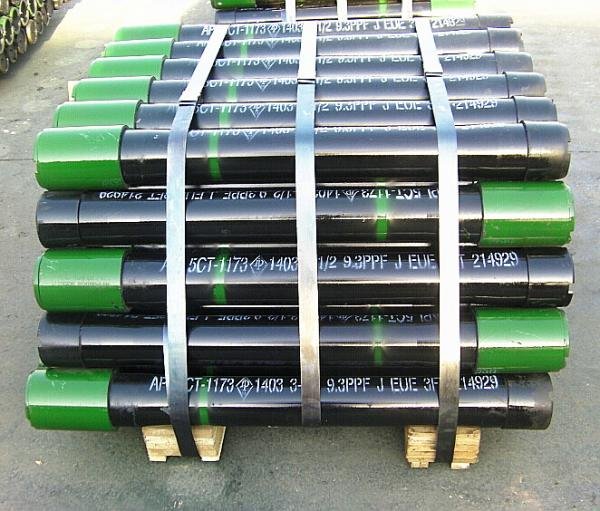 PRODUCTION PROCESS
API Pup Joints
We manufacture pup joints in all sizes, grades, and thread profiles to meet any requirement. Our tubing pup joints are manufactured out of seamless tubing and machined or upset to final dimensions. All API casing and tubing pup joints are manufactured according to API Spec 5CT. Special requirements are available on request.
Tubing Pup Joints:
Sizes: 2 ⅜" – 4 ½"
Weight: Standard or Requested Weights
Typical Lengths: 1, 2, 3, 4, 6, 8, 10, 12' (other lengths available upon request)
Grades: J-55, N-80, L-80, P-110
Connections EU (external-upset) and NU (non-upset)
Options: Custom Sizes, Markings, Paint, Plating, and Inspection available on request
Casing Pup Joints:
Outside Diameter: 4 ½" – 13 3/8"
All weights available
Typical Lengths: 1, 2, 3, 4, 6, 8, 10, 12' (other lengths available upon request)
Grades: H40, J55, K55, N80, L80 T95, C110, P110, Q125
Connections: SC, LC, BC, Semi Premium, and Premium
Options: Custom Sizes, Markings, Paint, Plating, and Inspection available on request
Pup Joint Options:
Pin x Pin
Pin x Pin with Couplings Loose
Coupling Box x Pin with Couplings Hand Tight
Coupling Box x Pin with Couplings Bucked-On
Tube and Bar Sales

Inconex Com carries a large inventory of API Coupling Stock, Mechanical Tubing, and Engineered Bar from some of the most reputable steel mills in the world.
Hot-Finished and Cold-Drawn Seamless Tubing
Hot-Rolled and Cold-Finished Carbon and Alloy Steel Bars
OD Range: 2" – 24"
Wall Thickness up to 1.500" on Tubing
Specifications: API, ASTM, AISI, etc.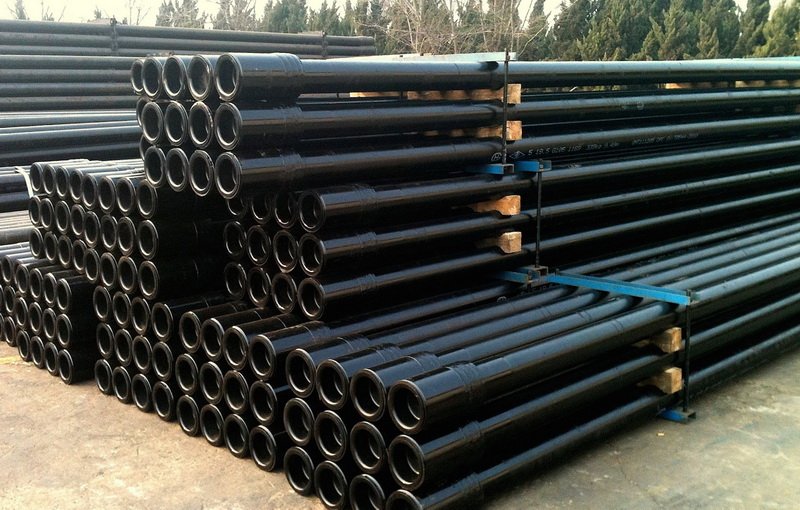 For the manufacture of drill pipes, drill rods, casings, core barrels, drill rod tool-joints we use only certified high quality materials. All tubular products used in drilling go through the electrothermal hardening with heating by high-frequency. It provides greater strength and durability of the surface of details.
During operation drill rods are subjected to heavy loads (high shutter level, intensive rotational functions, aggressive substances), therefore drill rods need a reliable corrosion protection. For this purpose all tool-joints and drilling tools are exposed to Carbonitriding. It enhances the fatigue strength of compounds for 50-80%, sharply increases wear resistance, provides a minimum value of the strain within the tolerance of the drawing, also jamming effect in the contact friction is suppressed. Friction coefficient is reduced from 0.7-0.8 to 0.04-0.15.
Our drilling pipes manufacturing technologies are aimed to:
Thread jamming elimination and increase of the overall durability of thread connections;
Increasing of the number of "screwing and unscrewing" cycles;
High balancing of the drill string and tool-joint coaxiality with the pipe axis.
All our developments allow drilling at high speeds and areas of reduced gap between the pipe and the borehole wall. Furthermore, we make smooth outer surface of drill rods in order to reduce the destruction of the wellbore and ensure uniform wear of the entire drill string.
All these achievements became possible thanks to the experience of our designers, engineers, metallurgists, as well as to special equipment that we use in the manufacturing process.
Friction welding machine Thompson-60
Its use allows to obtain high quality of welded joints and faster the process due to accurate dosing of energy. Moreover, this machine can weld metals and alloys in various combinations.
Hardening furnace PK1000/12 and tempering furnace PP1000/85
The maximum operating temperature in the hardening furnace starts from 1200°C, in the tempering furnace – 850°C. Modern management and regulation system of the whole heat treatment process ensures uniform hardening and tempering of parts across the entire length and depth. Ovens are equipped with temperature control system in different parts of the operating chamber and with predetermined uniform temperature distribution system across the operating chamber.
Hardening complex on the base of induction heating installation Elsit 100PS
The high heating temperature and a more intensive cooling after high frequency hardening provides a high hardness of the product and consequently, higher durability and wear resistance of the workpiece surface. Tempering is made in multiple zones in the automatic mode. Compressive stress appearance on the surface (due to the formation of the martensitic structure) enhances operational durability of parts, hardened by a high frequency.
Automatic lathes
During long time lathing is considered to be one of the main types of metal forming. Lathes can be seen in any metalworking or machine-building factory. Nowadays it is difficult to find a mechanism, which does not contain a detail processed on a lathe. Automatic lathes usage allows obtaining of high precision standardized parts. This is due to the employment of highly skilled workers and using of the advanced technology: high processing speeds (up to 3000 rev/min), special cutting tools, powerful cooling system.
We made full technical re-turning of the machining area by setting the most advanced imported equipment – automatic lathes Challenger BNC-2260, Hardinge Talent GS250, HAASST-30, pipe-threading machines MS22. These are high-performance lathes for precision machining. All lathes are equipped with 8-12 -place toolheads. The rigidity of the frame allows to held mechanical treatment with maximum accuracy. The plot is served by highly skilled operators of automatic lathes.
Constant lathing monitoring allows making timely adjustments to the program, and the use of carbide tools of European manufacturers allows to obtain the required accuracy. Qualification of our lathes operators allows to execute orders on time. Equipment ensures the quality of lathing both by size and by surface cleanliness.
We offer but are not limited to the following: API & premium tubing & casing pup joints, marker joints, blast joints, crossover subs, handling subs, bit subs, saver subs, double pin subs, flow couplings, couplings, drill pipe pup joints, landing nipples, hammer unions, wireline re-entry guides, stabbing guides, etc.